Global Journal of Medical & Clinical Case Reports & Studies (GJMCCRS)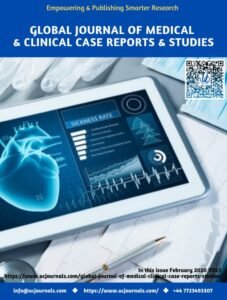 Journal Info:
Title of Journal Abbreviated: GJMCCRS
Published by: Unified Citation Journals
Periodicity: Six volume per year
Global Journal of Medical & Clinical Case Reports & Studies (GJMCCRS) is an international, peer-reviewed, open access, scientific and scholarly journal that publishes exclusive research, latest Case Reports and trending Case Studies in all areas of Medical and Clinical. Unified Citation Journals promise researchers, clinicians, academicians, healthcare professionals to provide a forum to publish their valuable number of case reports online, and also, they can find the latest case studies published in our journals archive.
Why publish in GJMCCRS:
Global Journal of Medical & Clinical Case Reports & Studies (GJMCCRS) entreat manuscripts that establish diverse theoretical frameworks like systematic, behavioral, graphical, psychodynamic, gestalt, humanistic, cognitive-behavioral, rational-emotive therapy and many more.
It's an online peer-reviewed journal that supports interesting studies, cases, and case series of all medical and clinical areas. It introduces the forefront research findings and reports in respective clinical and medical areas. Apart from basic findings in clinical cases, our journal focuses on medical and clinical trials, drug discovery, design, and development, methodologies, diagnostics, etc. Global Journal of Medical & Clinical Case Reports & Studies is an open-access source for all and acquired to globally accepted editorial policies to publish high-quality case reports, case studies, case reviews, prospective of clinical trials, and ethical issues related to clinical investigations.
Case Reports & Studies are detailed of the signs and symptoms, diagnosis, therapeutic techniques, and solutions of individuals, a small group of participants, or categories as a whole in the field of medical and life sciences. Clinical case studies correspond with designing a case report or study, collaborating and conducting case studies, through various methods and graphs like single or multi-modal, participant selection, collection, and analysis of data for benefit of patients.
Unified Citation Journals encourage authors and recommend researchers, who always shows more interest to publish their research work in the highly indexed and prestigious journals and avail them to the scientific community. The publication is an extensive path from author to reader, so our objective is to get rid of the barrier between author and reader or the end-user for the smooth access and flow of scientific information and research findings by making Open Access. This provides the fleeting turn-around time perhaps for reviewing and publishing and to circulate the articles accessible for research, teaching and which includes for reference purpose.
Global Journal of Medical & Clinical Case Reports & Studies (GJMCCRS) is positively evaluated in the SJIF Journal Rank List evaluation process. Our Journal publishes case reports including but not limited to following fields:
Submission: Authors are requested to submit their manuscripts/papers electronically info@ucjournals.com with mention journal title [GJMCCRS] in the subject line (or) Submit your manuscripts/papers here: https://www.ucjournals.com/submit-manuscript/
Manuscript Template: Click here to download the manuscript template.
Contact the Journal: Please do not hesitate to get in touch, get your queries clarified via the email address: info@ucjournals.com
Tags:
Cardiovascular Case Reports Journals | Case Reports in Clinical Pathology Journals | Case Reports in Psychology Journals | Case reports in Cancer Science Journals | Case reports in Nanotechnology Journals | Clinical Reviews Global Health Reports Journals | Gynaecology Case reports Journals | Health Care Reports Journals | Medical Case Reports Journals | Neurology case reports Journals | Ophthalmology case reports Journals | Stem cells case reports Journals | Case Reports in Diabetes Journals | Medical Genetics Journals | Sports Medicine & Doping Journals | Biomedical Research Journals
Recent Articles
case report

Global Journal of Medical & Clinical Case Reports & Studies Volume 1, Issue 1, May 2023, Pages: 01-20 Received: April…

Read More »